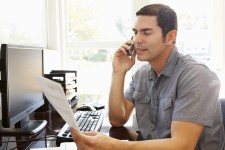 ROHNERT PARK, Calif., August 8, 2018 (Newswire.com) - When parents start talking to their kids about college, it's often because they want what they feel is best for their children's future. But the talks of going to college often include much more than just strictly attending. Talking about affording college is often one of the most important conversations that a family can have. Many families will have to talk about taking out student loans. Ameritech Financial, a document preparation service company, warns parents to think carefully about the loans taken out for college, and possibly consult a financial expert beforehand. Large student loans have a knack for becoming a burden to repay and, while Ameritech Financial can help qualified borrowers apply for income-driven repayment plans for potentially lowered monthly payments, being able to avoid a situation where borrowers struggle to repay would be more ideal.  
"Largely as a society it has been decided that a college education is the way most people should go. When that education is costing thousands of dollars, though, it starts becoming a harsh game of families and individuals struggling to afford that societal demand," said Tom Knickerbocker, Executive Vice President of Ameritech Financial.
Different loan types have different stipulations to them. Parents might be tempted to go towards parent PLUS loans because they'll be taken out in their name instead of their kids. With often better credit, better income, and more knowledge of life in general, it might be tempting to take on the loans for college instead of having children do it. But hardships don't just happen to kids. And a financial hardship involving student loans for the parents may very well wind up becoming a problem for the kids. There are a lot more factors to the issue of student loans than just types and who will take them out, but because of the various factors, it becomes an issue deserving careful thought.
For the families that do take out parent PLUS loans that become burdensome, or for those borrowers who have them already and are struggling with repayment, Ameritech Financial might be able to help. By assisting qualified borrowers in applying for federal income-driven repayment programs, borrowers may have their monthly payments lowered and can potentially get onto the path of student loan forgiveness after 20-25 years of qualified payments in such programs. "Ameritech Financial exists because we feel -- no, we know -- there is a need for financial advocates on the part of student loan borrowers to assist in completing application documents. We're here to do our part in keeping student loan borrowers as financially safe as possible," said Knickerbocker.
About Ameritech Financial
Ameritech Financial is a private company located in Rohnert Park, California. Ameritech Financial has already helped thousands of consumers with financial analysis and student loan document preparation to apply for federal student loan repayment programs offered through the Department of Education.
Each Ameritech Financial telephone representative has received the Certified Student Loan Professional certification through the International Association of Professional Debt Arbitrators (IAPDA).
Ameritech Financial prides itself on its exceptional Customer Service.
Contact
To learn more about Ameritech Financial, please contact:
Ameritech Financial
5789 State Farm Drive #265
Rohnert Park, CA 94928
1-800-792-8621
media@ameritechfinancial.com
Source: Ameritech Financial