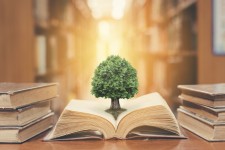 ROHNERT PARK, Calif., September 10, 2018 (Newswire.com) - Deciding on what field of education to pursue isn't always easy. There are a lot of factors to first consider, like what has a good chance of landing someone a sought-after job or what is currently thought of as useful. There's a lot beyond that, unique to each individual, but what often comes up is the idea that some degrees are more useful than others. Specifically, STEM-based educations are often lauded as more useful than social and liberal degrees. Ameritech Financial (Ameritech), a document preparation service company that helps student loan borrowers apply for federal repayment programs, wants to say that there is as much of a need for more artistically inclined degrees as there are for harder science-based educations.
Well-meaning people often tell those looking to better themselves through education -- either for first-time college goers or for a career change -- that their best bet is to go for some sort of tech or business training. And to some degree, that's true. Those careers have high payouts and are necessary for the ever-advancing society that is lived in. But when talking about more science-, math- or technical-based careers, people have a tendency to say that they're inherently better than social or liberal careers. Because of the value that society places on jobs like escrow account managers and technical administrators, those jobs pay more, making it easier for loan repayment and overall financial betterment. But people benefit from liberal arts every day, often without realizing it. The idea that one type of education is inherently better than another is a disservice to the industry as a whole and to those not even realizing how much they gain from softer-science knowledge. "College isn't easy and it's often expensive. People want to make the best possible decisions for their future, especially when student loans are involved. But because they'll have to repay those loans at some point, some borrowers might feel forced to make specific choices for their education," said Tom Knickerbocker, executive vice president of Ameritech Financial.
While someone with a liberal arts degree on average only makes a little over $40,000 and someone with an engineering degree on average will make almost $65,000 right after college, they shouldn't have to worry about that when it comes to repayment, says Ameritech. All sorts of educations are needed for our society, no matter what some voices might say. When student loan repayment becomes a burden, Ameritech might be able to help by assisting qualified borrowers in applying for federal income-driven repayment plans. These repayment plans can potentially lower monthly payments and get a borrower on track for student loan forgiveness in roughly 20-25 years. "Repayment can become a struggle for borrowers for reasons beyond their control. Ameritech wants to help ease the burden of student loans that some borrowers experience by helping them in the ways that we can," said Knickerbocker.
About Ameritech Financial
Ameritech Financial is a private company located in Rohnert Park, California. Ameritech Financial has already helped thousands of consumers with financial analysis and student loan document preparation to apply for federal student loan repayment programs offered through the Department of Education.
Each Ameritech Financial telephone representative has received the Certified Student Loan Professional certification through the International Association of Professional Debt Arbitrators (IAPDA).
Ameritech Financial prides itself on its exceptional customer service.
Contact
To learn more about Ameritech Financial, please contact:
Ameritech Financial
5789 State Farm Drive #265
Rohnert Park, CA 94928
1-800-792-8621
media@ameritechfinancial.com
Source: Ameritech Financial