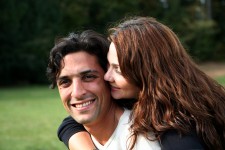 ROHNERT PARK, Calif., August 6, 2018 (Newswire.com) - ​Relationship counselors often advise being open and honest with a partner because communication and trust are core factors of a healthy relationship. Often those counselors are referring to feelings and wants, but being honest with a partner would also include admitting to any outstanding student loans. Ameritech Financial, a document preparation service company, warns couples thinking about marriage to be upfront about financial situations to better prepare for the future.
One in eight divorces is caused by student loans, which shows just how stressful dealing with them has the potential to be. For many individuals, couples and families, finances are tight enough as it is. When repayment is taking heavy percentages of paychecks every month just to cover interest, it makes sense why the number of divorces related to student loans is so high. "Marriage can be rocky enough as it is, even with everyone's issues out in the open. You might be tempted to keep something like student loans hidden from your partner out of fear or shame, but your partner may think you don't trust them if you hide something that could have major consequences down the financial road," said Tom Knickerbocker, Executive Vice President of Ameritech Financial.
Some couples mutually agree to hold off on getting married until both party's student loans have been paid off. It may be a less-than-desirable situation, but it also allows for things like being in individual income-driven repayment programs if both partners have loans to worry about. For assistance with applying for federal income-driven repayment programs, single or married qualifying borrowers can look to Ameritech Financial. These programs can potentially lower required monthly payments towards student loans, and maybe also get borrowers on track for student loan forgiveness after 20-25 years of qualified payments in such programs. "We at Ameritech Financial want people to be able to live their best life possible and being burdened with student loans isn't the way to achieve that. That's why our company was created — to help people apply for income-driven repayment programs when they need it most and when they feel they cannot do it alone," said Knickerbocker.
About Ameritech Financial
Ameritech Financial is a private company located in Rohnert Park, California. Ameritech Financial has already helped thousands of consumers with financial analysis and student loan document preparation to apply for federal student loan repayment programs offered through the Department of Education.
Each Ameritech Financial telephone representative has received the Certified Student Loan Professional certification through the International Association of Professional Debt Arbitrators (IAPDA).
Ameritech Financial prides itself on its exceptional Customer Service.
Contact
To learn more about Ameritech Financial, please contact:
Ameritech Financial
5789 State Farm Drive #265
​Rohnert Park, CA 94928
1-800-792-8621
​media@ameritechfinancial.com
Source: Ameritech Financial