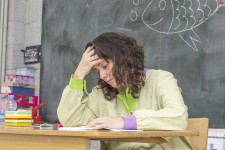 ROHNERT PARK, Calif., October 11, 2018 (Newswire.com) - ​Many teachers are furious that their education grants are being converted into a loan. The Department of Education's TEACH grant is supposed to help teachers afford higher education in return for a promise to teach high-demand skills, such as math, in lower-income schools. Since the TEACH grant provides up to $4,000 every year to prospective teachers who qualify, it may be used by many as a fundamental way to afford college. Unfortunately, the grant is so specific that even teachers who try their utmost to fulfill the grant requirements end up paying a loan. Ameritech Financial, a document preparation company, recommends that any borrower facing a daunting loan balance look into federal repayment programs and encourages borrowers to call them if they need assistance with the paperwork.
"Many teachers who take the TEACH grant end up paying off loans instead," said Tom Knickerbocker, executive vice president of Ameritech Financial. "The TEACH grant feels overly literal and unadaptable, and it delivers surprising, severe punishment to people who are trying to complete their TEACH promise as best they can."
The TEACH grant is a trap for 63 percent of the people who use it because of the specificity of the grant. If a teacher is unable to meet the requirements of the grant, then their grant is immediately converted into an unsubsidized loan. This means that if a teacher is unable to find an appropriate school, they can suddenly have a loan. If they are employed with the right school, but the school asks them to teach skills not covered by the promise, they get a loan. If they do not do annual recertification of their paperwork, they get debt. If documents are handled inefficiently by the postal service or some other agency, that can result in a loan. However, as 37 percent of teachers have shown, getting the benefit of the TEACH grant is still possible.
If things go wrong, or if there are other federal loans, Ameritech may be able to help borrowers apply for an income-driven repayment plan (IDR). An IDR can potentially lower a borrower's student loan payments to 10 to 15 percent of their discretionary income and end in loan forgiveness after 20 to 25 years. This may allow a teacher to better afford their student loans while still living a decent lifestyle. If any borrowers need assistance, then Ameritech can help with annual recertification and other paperwork needs which may help give a teacher more time to understand how to complete some of the requirements of the TEACH grant.
If teachers are unable to avoid having increased student loans, they may find solace in the Public Service Loan Forgiveness (PSLF) program. Public service members who apply for PSLF obtain loan forgiveness after being enrolled in an IDR for 10 years instead of the normal 20 to 25 years. Unfortunately, PSLF is another complicated repayment program; in fact, only 96 of the 12,000 who applied have achieved success at the time of this writing. However, the problems with PSLF are being brought to light making it more likely that the problems in the system will be solved and the average borrower will hopefully qualify.
"The severe consequences from making a minor paperwork error are inexcusable," said Knickerbocker. "We aim to be an advocate for borrowers who want to know the best repayment plan for their situation and goals. No one should suffer lifelong problems due to a student loan paperwork misunderstanding."
About Ameritech Financial
Ameritech Financial is a private company located in Rohnert Park, California. Ameritech Financial has already helped thousands of consumers with financial analysis and student loan document preparation to apply for federal student loan repayment programs offered through the Department of Education.
Each Ameritech Financial telephone representative has received the Certified Student Loan Professional certification through the International Association of Professional Debt Arbitrators (IAPDA).
Ameritech Financial prides itself on its exceptional customer service.
Contact
To learn more about Ameritech Financial, please contact:
Ameritech Financial
5789 State Farm Drive #265
​Rohnert Park, CA 94928
1-800-792-8621
media@ameritechfinancial.com
Source: Ameritech Financial