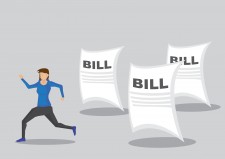 ROHNERT PARK, Calif., August 7, 2018 (Newswire.com) - Sometimes a student loan is the monthly bill that breaks a budget's back. In 2017, college graduates who borrowed money to pay for college left school with an average of $39,400 in debt, ensuring that monthly payments will be a part of their life for the foreseeable future. Anyone struggling to make payments is definitely not alone. The struggle may even get so intense that a person considers stopping loan payments altogether. Ameritech Financial, a document preparation company that assists borrowers with federal repayment plan applications, urges those struggling with student loans to forge ahead through the inhospitable landscape of student debt and avoid defaulting.
"Default shouldn't even be on the radar, but unfortunately some people's debt burden is so bad that they consider it an option. It really shouldn't be," Ameritech Executive Vice President Tom Knickerbocker offered.
He feels this way because of the deep and wide ramifications of halting payments. Before default even occurs, a delinquent account is reported to the three major credit bureaus and a borrower's credit report could take a hit. Once the loan goes from delinquent to defaulted, the outlook becomes much more grim. At that point, for federal loans, the entire balance becomes due in full. After such a transition, a person's wages could be garnished, tax returns can be seized and any federal funding coming in can be diverted to the debt. The loan could also be sent to a collection agency, which may impose fees that can slow down repayment. The government might even sue for the amount owed and if it succeeds, it can place liens on possessions like a car or home. In some states, casinos will even withhold winnings from a person who has defaulted on a student loan. All things considered, default is likely not the answer, no matter how appealing it may sound to just stop making payments.
"Default shouldn't be an option because IDRs are there to hopefully make monthly payments more affordable based on the borrower's income level and family size," Knickerbocker went on to say. IDRs, or income-driven repayment plans, are programs that determine monthly payments in ratio to income and family size. "If borrowers have an IDR, then they can stay current on their loan while keeping enough cash on hand for other bills and expenses," Knickerbocker concluded.
About Ameritech Financial
Ameritech Financial is a private company located in Rohnert Park, California. Ameritech Financial has already helped thousands of consumers with financial analysis and student loan document preparation to apply for federal student loan repayment programs offered through the Department of Education.
Each Ameritech Financial telephone representative has received the Certified Student Loan Professional certification through the International Association of Professional Debt Arbitrators (IAPDA).
Ameritech Financial prides itself on its exceptional Customer Service.
Contact
To learn more about Ameritech Financial, please contact:
Ameritech Financial
5789 State Farm Drive #265
​Rohnert Park, CA 94928
1-800-792-8621
​media@ameritechfinancial.com
Source: Ameritech Financial